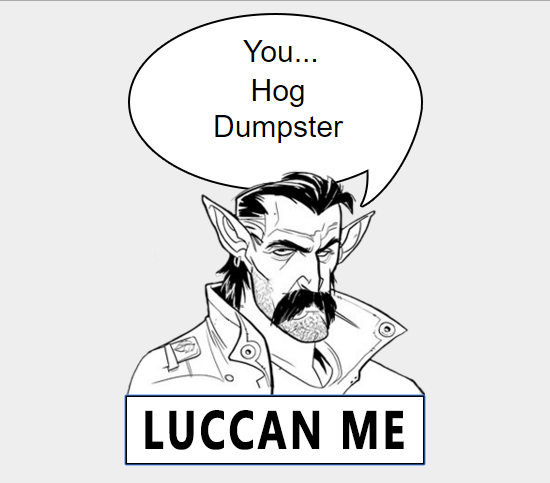 I have created an insult generator for everyone's favorite salty, foul-mouthed wood elf, Luccan.
You can check it out here -
http://bit.ly/1rqp1Xr
There are currently more than 32,000 insults so Thrifty never has to call our adventurers the same thing twice.
Just click the "
Luccan Me
" button to generate a new insult.
I will be adding more words every now and then, so if you have ideas, reply in the thread.
I tried to make it as lightweight as possible and made the user interface more app-like in functionality.
For you code nerds out there you can see there is just a JS call to the array and some google analytic code (so i can see how many people use it).
Google has now indexed it so you can find it in search.
Yes, there will be some insults that don't make sense because I wasn't going to take the time to go through and do conditional comparisons between the two arrays.
Please just click the button again. It is what it is. I did this a labor of love and didn't get paid.
Post your favorite insults in the thread!
Enjoy!
- Kobold Paladin