Guess what is just around the corner? The Winter Solstice! Or Hanukkah, Kwanzaa, Christmas, or whatever holiday you may celebrate this time of year. Don't groan. Thanksgiving is next week. The holidays will be here before you know it!
Readers are notoriously hard to shop for. If you're anything like my family, you struggle with what to get the reader, or readers, in the family or among your friends. Maybe you usually get them a gift card to Barnes and Noble. A gift card is great, but gift cards can feel impersonal and you may be wanting to actually give something. If that's you, then you're in luck! I'm here to help provide you with suggestions for great books or reading related items to give as gifts this year (or maybe to get for yourself with that gift card you're going to get).
A Game of Thrones: Illustrated Edition by George R.R. Martin is an excellent choice for fans of this series, even if they already own a copy of this book. Most especially if they are a fan of our podcast Cast of Thrones! I saw this beauty is Barnes and Noble the other day and I flipped through its gorgeous pages. The illustrations in this book are amazing. Depending on where you decided to purchase this, it can be a bit spendy. It sells for about $50 full price, but if you look around on Amazon or Barnes & Noble, you can find it for about $30.
The Book Lover's Journal would be a cool gift for readers that like to keep track of their books, who they have lended their books to, and jot down notes on what they are currently reading. You can find this handy notebook on Amazon for about $13.
Continuing in a similar, more family-friendly direction is Harry Potter and the Chamber of Secrets: The Illustrated Edition. This would definitely be perfect for Harry Potter fans (obviously), especially if they already own the illustrated edition of Harry Potter and the Sorcerer's Stone. If they don't, maybe get that one, or both! Also perfect for fan of the Yer a Wizard, Harry podcast. The art, done by Jim Kay, is just perfect and it makes re-reading the series just that much more enjoyable. Not as pricey as the Game of Thrones illustrated edition; about $24 on Amazon.
My next suggestion isn't so much a thing as it is a place to find the things. Especially the things that are literary themed or themed around a specific fandom. That place is on Etsy. You can find almost anything there and also support individual artists. Take this candle for example: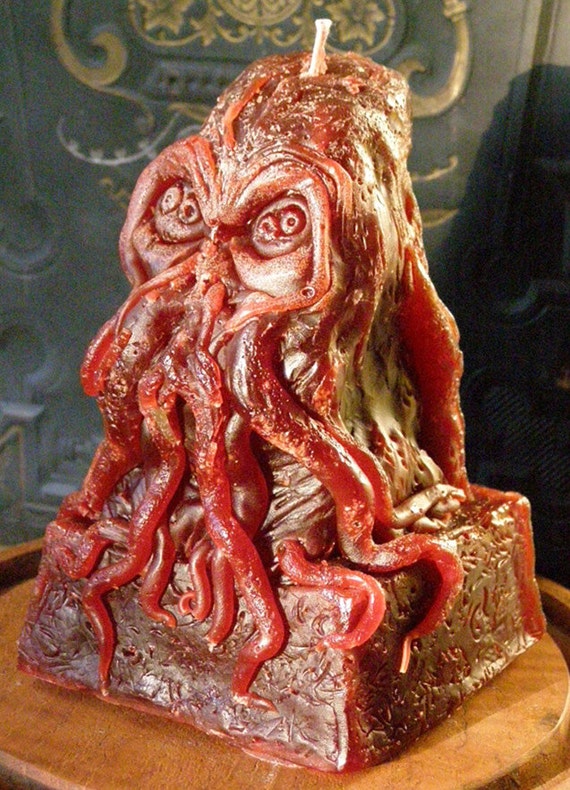 This candle, while a little spendy at $39, is amazing! This is a Spawn of Cthulhu candle sold by MonstersDomesticed. (Obviously for fans of Cthulhu and Friends.) This is just one awesome example of the types of things you can find on Etsy. Think of any fandom out there, you are probably able to find all sorts of goodies, including jewelry, candles, art, bookmarks, & clothing.
Does your family member or friend like to color? With the trend of adult coloring books, there are plenty of options out there that are inspired by books. Alice in Wonderland, Outlander, Harry Potter, A Game of Thrones, and plenty more. If you know they love Jane Austen, there are coloring books out there! The best part is that they aren't very expensive, usually somewhere between $10 to $20.
This next suggestion is going to require that you know a little about what your reader's book collection. If there is a specific book classic that you know your reader loves and they collect different editions, another edition of that book would be a great idea! I collect editions of two of my favorite classics, Jane Eyre and Wuthering Heights. So if you know that they don't have a specific edition, seek it out!
Is your reader also a gamer? Maybe something like Drunks & Dragons, I mean Dungeons & Dragons? Find an awesome book related to the game they love. Maybe something like Volo's Guide to Monsters, which delves into the lore around monsters and new playable races in the fifth edition of Dungeons & Dragons. Or maybe they like Halo, World of Warcraft, or Eve Online. There are both stories and practical guides that you can find regarding most popular games.
Whatever you get your loved one this holiday season, it is always the thought that counts. But also remember that family and friends are more important than the gifts.